BC Wilderness Vacations & Adventures
---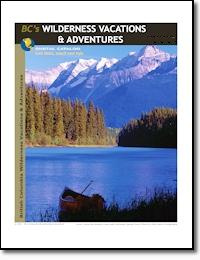 This free guide showcases the world renowned wilderness vacations, fly-in resorts, destinations, expeditions, guides and adventures you can enjoy in the wilderness of British Columbia, Canada.
Accommodations in remote rustic cabins, fly-in lodges or world class BC wilderness resorts. Guides & outfitters offer guided backwoods adventures, expeditions, and day trips deep into the forest, to the mountain tops, or down a river.
From snow capped mountain peaks to alpine meadows . . . from pristine river valleys to fly-in trout lakes . . . grizzly bear viewing, whale watching and eco-adventures! British Columbia wilderness vacations have it all!
Download the BC Wilderness Vacations & Adventures Guide:
Right click and use the "save target as" command to save to your hard drive.
Left click to open on-line (not recommended for slow Internet connections


(file size: 7.17MB)