Thompson Okanagan Vacations Guide
---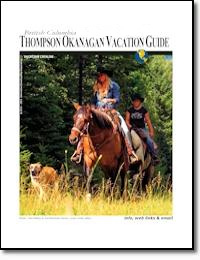 This free vacations guide showcases select vacation destinations in British Columbia's recreational playground - the Thompson Okanagan.
The Thompson Nicola, follows the Trans Canada Highway in the east from the holiday lakes of the Shuswap and on to the city of Kamloops, where the North and South Thompson Rivers meet. From there the area stretches west to the Fraser and Thompson River Canyon and south along Highway 5 as it leads to Merritt in the Nicola Valley or north to the Yellowhead Hwy 16.
Thompson Nicola is a part of the Thompson Okanagan region that's rich in natural beauty and recreational opportunities. Whether you're exploring the wilderness, houseboating in the Shuswap, fishing for Kamloops trout or rafting the Thompson River, you're sure to be having fun.
The Okanagan Valley is BC's fruit and wine country. Travel south from Salmon Arm and follow Highways 97 and 3A as they pass by vibrant communities, fertile orchards and azure blue lakes. In the south, you can follow Highway 3 across the Hope-Princeton Highway to Vancouver or go east to the Kootenays.
Encompassing the fertile Okanagan Valley and Similkameen Valley, this area is home to miles of farms, orchards and vineyards. The many smaller lakes that dot this BC region offer excellent lake fishing and accommodations, lodging, resorts, hotels, motels, and guest ranches, while the sandy beaches of the larger lakes attract sun seekers for a variety of watersports.
As might be expected, the Okanagan and Similkameen can provide visitors with a broad choice in accommodations and services. From tenting and RV camping to luxury beach resorts, there's a place to stay that's just to your liking. And there's always lots to do; golfing, skiing, hiking, mountain biking, horseback riding and more.
Plan your next vacation in the Thompson Okanagan region of British Columbia, Canada. Download the free Thompson Okanagan Vacations Guide.
Right click and use the "save target as" command to save to your hard drive.
Left click to open on-line (not recommended for slow Internet connections


(file size: 3.05MB)